THE CAZZELL FAMILY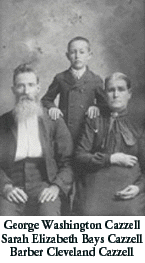 We have traced our Cazzell ( Cazzelle, Cazil and various other spellings ) family back to William Cazzell, Sr. who was born in Virginia about 1780-1783 and died in Greenupsburg, Kentucky about 1885-1890. He married Judith Lewis in 1826 in Floyd County, Kentucky. William had four children before he married Judith Lewis. The mother of those children is unknown.
My mother, Velma Cazzell Flynn, who passed away in 1988, and my sisters began researching our family history in the early 1970's. My mother was a direct descendant of William Cazzell, Sr., William Cazzell, Jr., George Washington Cazzell and William Edward Cazzell, Sr. who was her father.
Several years ago my sisters passed all their research along to me. My wife, Barbara, entered all the Cazzell information into a Family Tree computer program and we put together a Cazzell family web site. Since then we have met many Cazzell relatives, some who are doing their own research and others who are simply interested in learning more about their family history. Most of the information we have gathered is the result of research by my mother and sisters as well as other Cazzell researchers and family members that have volunteered individual information. Our Cazzell file presently includes almost 3,300 ancestors and descendants as well as many photographs.
We are always happy to share our family history with anyone who might be interested. If you would like to know more about the Cazzells, or if you would like to contribute to our research, please email me.
Jerry Flynn
bflynn@centex.net
---
Read About
Elizabeth Cazzell Bullock
Elizabeth's Father, John Henry
Elizabeth's Brother, John Wesley
William Edward Cazzell Biography
---
Genevieve Bender, Sue Keeley-Hicks and Marsha Stanford are major contributors to the Cazzell family research. You can contact them directly at the following email addresses:
Genevieve Bender
genbender@mymailstation.com
---
Want to know what was happening in the world when you were born ? Click here.
---
Powered by counter.bloke.com